The Raindance rave festivals!!!!
*click HERE, then proceed to read……..*
In September 2009, Raindance celebrated their 20th year of putting on events by putting on another top class night at the SE1 club in London. These guys really are veterans of the scene, and here is a little homage to their efforts over the last 2 decades!!
Raindance began life in a giant circus tent in a football field at Jenkins Lane on the East London/Essex borders back in the autumn of 1989. It was in the days when one music served all and was known simply as "Rave". It was the first legal fully licensed all night event in the UK. These days the area is home to a huge entertainment and retail complex, but in the late '80s and early '90s provided the backdrop to a host of pioneering rave events.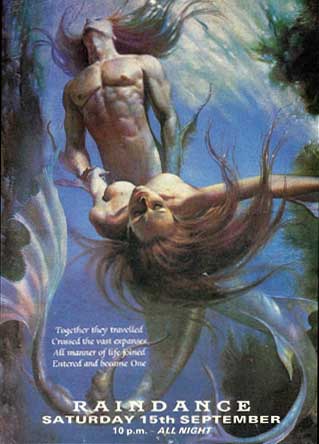 Back in those days, the Raindance tents could hold up to 8000 people and they were always full. There was also a small chill-out tent, but that never got much use as people just wanted to dance, dance and dance! There was also free funfair rides to keep everyone amused…..
Raindance provided the platform that launched the careers of many of today's household name DJ's such as Carl Cox, Dave Angel, LTJ Bukem, Mr C, Rap, John Digweed, Kevin Saunderson, Slipmatt, Fabio and Grooverider. It also showcased live acts such as Shades of Rhythm, N-Joi whose lead singer went on to front chart toppers Republica, and of course the one and only Prodigy who played a few of their first gigs to a large audience at Raindance.
Raindance put on many events over the next few years not only at Jenkins Lane, but also in Leicestershire, Cambridgeshire, Avon, and abroad in Spain.
By 1993 the music split as the sounds of jungle started emerging from the hardcore sound, and this resulted in doing away with the need for giant single arenas and the ever-present pressure from the authorities saw Raindance take a much-needed rest. The promoters then moved on to promote the original Yabba Dabba Doo (a hardcore event at the Astoria in London) and drum and bass events such as Promise, and Jungle Fever.
One of the original promoters has carried on the Raindance mantle throughout the '90s and beyond…..
Simply known as Richard Raindance, the 47-year-old from West Ham is rarely pictured, donning an acid house smiley face mask in the style of Daft Punk at his events. He's a thoroughly sound guy too
Richard Raindance–"The party at the start of 1990, when we worked closely with Newham Council, was the world's first legal rave. As we continued during those early years we would have coaches leaving from The Astoria in the West End at 3am, bringing hundreds of people to our event because we were licensed until 6am. We were at the forefront of the pressure that led to all-night licences……"
In the summer of 1995 there was a one-off "Spirit of Raindance" event at Bagley's Warehouse in London, which attracted 2500 people.
By 1997 the original Raindance rave sound had evolved and was now known as Old Skool Hardcore. Raindance began a monthly club event called (coincidently) "Raindance Re-union" at a former well-known rave venue now turned nightclub, the Berwick Manor in Rainham Essex, a short distance from the original site at Jenkins Lane.
It had 2 rooms and a capacity of 800 people plus a large garden to house the free Dodgems. There were a number of residents such as Herman, Flashback, Devious D and Jack Bass. There were also many guest DJs from the original Raindance such as Slipmatt, Seduction, Face, Swan-e, Ellis Dee and Phantasy along side other top DJs from that era like Ratpack, Squirrel, Vibes, Nicky Blackmarket and Top Buzz.
There were also co-promotions with Passion on several Bank Holiday events at The Powerhouse in Stratford, East London featuring a Raindance outdoor arena (good times!!)
By late 1998 because of its popularity they needed to expand and a move was made to the Pleasure Rooms (better known as Labyrinth) in Tottenham, North London. The Pleasure Rooms during these years also hosted a Dreamscape at the end of 1999, and of course regular Labyrinth events.
Because of the extra rooms available they were able to introduce a proper Jungle arena and a Hard House arena later on bringing in attendances of up to 1200.
After nearly a year and 6 events at the Pleasure Rooms it was felt that another move was needed to inject some freshness back so another original rave venue was chosen, the Rocket in Holloway Road, North London.
However after two 1000 capacity events it was felt that the venue was unsuitable for the Raindance vibe so they moved on to their present home at The Drome under London Bridge Station. This is their current venue of choice, where they host events every 6-8 weeks. The Drome (now renamed The Se1 Club) has given them even more rooms to play with which now includes Happy Hardcore and has more than doubled capacity to 2500.
SeOne Club, Weston Street, SE1, is the biggest legal dedicated dance space in London, and has been Raindance's home for the past 10 years. And long may they continue putting on quality events.
Raindance, you're on of the best. Thank you for some wikkid nights!